Coding, Robotics, and 1:1 Devices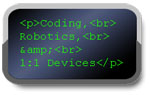 Target Grade(s): K-12
Overview:
Participants learn about and explore best practices in the newest learning pedagogies and technologies. Whether you are already involved, or looking to integrate these cutting-edge tools and strategies for the classroom, you will begin to expand your reach for enhancing student learning. Scaffolded to allow success at all grade levels, Coding, Robotics, and 1:1 Devices offers resources for application into elementary, middle, and high school. Participants will interact with no-fee computer programming, robotics opportunities, and the latest uses of devices. All participants have the opportunity to work with innovative technologies and interact with talented educators, practitioners and special guests who are already making a difference in K-12 classrooms.
Learn applications of Coding as a mathematics pedagogy, explore opportunities for Robotics, and learn cutting-edge implementation of One-to-One Devices (1:1) in K-12 classrooms.
What can I expect from this course?
Participants attend 5 LIVE online sessions that include, but are not limited to, the following topics:
Session 1: Coding and Computer Programming, pedagogy for application and integration
Session 2: Robotics-Engineering practices and working with robots
Session 3: 1:1 Devices-Best practices with iPads, Chromebooks, and Tablets for learning
Session 4: Learning technologies for classroom integration
The course includes 5 LIVE and other asynchronous components. Select from a series of assignments designed to meet your classroom goals and new learning technologies engaging and meaningful ways. You may work with course instructors to tailor course assignments to your specific needs.
NGSS Disciplinary Core Ideas:
Technology, utilized as a tool for enhancing learning, can be applied for multiple concepts. When educators identify the desired NGSS learning outcomes and seek the technological tools appropriate for the task, students can succeed. Any NGSS topic can be addressed using tools outlined in this course.
NGSS Scientific Practices (8 of 8 addressed):
Key practices outlined by NGSS are addressed through the use of innovative technologies in the classroom.
Asking questions (for science) and defining problems (for engineering)
Developing and using models
Planning and carrying out investigations
Analyzing and interpreting data
Using mathematics and computational thinking
Constructing explanations (for science) and designing solutions (for engineering)
Engaging in argument from evidence
Obtaining, evaluating, and communicating information
What other opportunities may I pursue?
Participants may implement course elements and develop a portfolio following the guidelines of the National Board for Professional Teaching Standards, with the goal of submitting work for National Board Certification.
Educators may seek opportunities to present at conferences, or among colleagues and education community stakeholders. Course instructors and mentors will support your individual goals to become leaders in integrated STEM education.