STEM Leadership Seminar**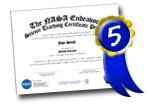 Target Grade(s): K-12
Overview:
This unique course guides Endeavor Educators to perform short-term, integrated-STEM, episodic PD, preferably with NASA assets of their choosing. The goal is to infuse systemic change, content from STEM area disciplines, and STEM pedagogy to peers in the building, school district, or region. Collaboration with classmates and online feedback offers guidance necessary to achieve course outcomes and success. The short-term training meets leadership objectives which include providing a specific set of classroom activities for other teachers to utilize that may be adopted into other curriculum. Ideally, other NASA Endeavor Graduates, optionally, could have access to the materials through Endeavor's Global Professional Learning Community for Endeavor graduates.
Bring your Endeavor experience to others in your building or district through this meaningful culminating leadership course.
What can I expect from this course?
Participants attend 5 LIVE, online sessions in a user-friendly format, which include, but are not limited to the following topics:
Session 1: What is a Teacher Leader?
Session 2: Learning to Lead with Purpose
Session 3: Mentorship
Session 4: Leadership in STEM Education
Session 5: Designing and Implementing Meaningful PD
NGSS Disciplinary Core Ideas:
All NGSS Disciplinary Core Ideas are integrated into this course. The specific focus of assignments and discussions are tailored by the participants needs.
Topics:
Building Capacity for Leadership
From Good Teachers to Great Teaching
Learning to Lead with Purpose
Individual conferences/office hours
Teacher Leadership in STEM
Teacher Leadership in STEM
Case Studies in Teacher Leadership
Designing and Implementing Productive PD
Knowing the Audience
The Value of Personal Reflection
Collaborative Learning Environments
NGSS Science and Engineering Practices (8 of 8 addressed):
Asking questions (for science) and defining problems (for engineering)
Developing and using models
Planning and carrying out investigations
Analyzing and interpreting data
Using mathematics and computational thinking
Constructing explanations (for science) and designing solutions (for engineering)
Engaging in argument from evidence
Obtaining, evaluating, and communicating information
What other opportunities may I pursue?
Participants may implement course content and develop a portfolio following the guidelines of the National Board for Professional Teaching Standards, with the goal of submitting work for National Board Certification.
Educators may seek opportunities to present at conferences, or among colleagues and education community stakeholders. Course instructors and mentors will support your individual goals to become leaders in integrated STEM education.
Student Learning Outcomes:
Upon completion of this course, the student will be able to:
Design and implement a professional development project (e.g., training and a "pick-up unit") with colleagues.
Disseminate effective STEM pedagogical content knowledge to other educators to promote integrated-STEM education.
Support other educators in accessing resources available for conducting STEM activities with students.
Collect and analyze data to show the impact of the professional development and STEM curricular activities and inform teaching practice.