Math Connections to STEM Education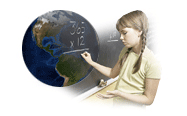 Target Grade(s): K-12
Overview:
This Endeavor course encourages the application of mathematics in science, and science in math, as well as other subject areas, for an integrated learning experience. Exercises and activities often include NASA content and education assets in real-world STEM education classroom activities; many activities can be in the realm of topics demonstrated in Earth and Space Science. Live presenters introduce and break down authentic examples and projects; they demonstrate how problems and activities incorporate standards-based mathematics. Course participants survey math examples and tools as the course promotes the use of applied mathematics in science and math K-12 classrooms to meet learning goals. Educators demonstrate mathematics modeling or the increased infusion and integration of math into their practice.
Apply math in the context of exciting NASA missions and learn to integrate math and science in more meaningful ways in your classroom.
What can I expect from this course?
Participants attend 5 LIVE, online sessions in a user-friendly format, which include, but are not limited to the following topics:
Session 1: Today's CCSS and STEM Classroom
Session 2: Problem Based Learning
Session 3: Authentic Data in the Classroom
Session 4: Integrated Math Resources
Session 5: Math Modeling
NGSS Disciplinary Core Ideas:
All NGSS Disciplinary Core Ideas are integrated into this course. The specific focus of assignments and discussions are tailored by the participants needs.
Topics:
Authentic Data
Modeling
Argumentation in Math
Math in Space
Applied Math
Data Analysis
NGSS Science and Engineering Practices (8 of 8 addressed):
Asking questions (for science) and defining problems (for engineering)
Developing and using models
Planning and carrying out investigations
Analyzing and interpreting data
Using mathematics and computational thinking
Constructing explanations (for science) and designing solutions (for engineering)
Engaging in argument from evidence
Obtaining, evaluating, and communicating information
What other opportunities may I pursue?
Participants may implement course content and develop a portfolio following the guidelines of the National Board for Professional Teaching Standards, with the goal of submitting work for National Board Certification.
Educators may seek opportunities to present at conferences, or among colleagues and education community stakeholders. Course instructors and mentors will support your individual goals to become leaders in integrated STEM education.
Student Learning Outcomes:
Upon completion of this course, the student will be able to:
Use science problems and integrated-STEM examples which apply mathematics to meet math learning goals.
Adopt a curriculum unit or sequence to incorporate applied math learning in a science, mathematics, or other classroom(s).
Integrate math and science content in authentic contexts to motivate learners.
Scaffold mathematics content with science concepts for effective instructional materials.