Action Research in the STEM Classroom**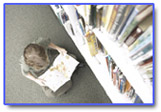 Target Grade(s): K-12
Overview:
STEM Educators conduct research in their educational setting to examine some aspect of teaching and learning in which they are interested. Participants design and enact action research by reviewing background literature, formulating research questions, designing a study, collecting data, completing a thorough analysis and reporting findings. Completion of this course earns participants a Research Distinction on the STEM Certificate. Opportunities for sharing research through presentations and/or publication are encouraged.
Conduct research with a small group of students to inform your STEM practice and advance your career as a leader in STEM.
What can I expect from this course?
Participants attend 5 LIVE, online sessions in a user-friendly format, which include, but are not limited to the following topics:
Session 1: Introduction to Action Research
Session 2: Research Methods
Session 3: Individual Conferencing Sessions with Instructor (ongoing)
Session 4: Data Analysis / Contributions to the Field
Session 5: Publication Guidelines
Topics:
Qualitative Research
Quantitative Research
The Action Research Process
Ethics of Research and IRB
Teachers as Researchers
Teachers as Leaders
NGSS Science and Engineering Practices (8 of 8 addressed):
Asking questions (for science) and defining problems (for engineering)
Developing and using models
Planning and carrying out investigations
Analyzing and interpreting data
Using mathematics and computational thinking
Constructing explanations (for science) and designing solutions (for engineering)
Engaging in argument from evidence
Obtaining, evaluating, and communicating information
What other opportunities may I pursue?
Upon completing the Endeavor program you will be invited to participate in the Professional Learning Network. This is a great opportunity to stay in touch with STEM teachers across the country. Graduates also may present STEM work at conferences or among colleagues and education community stakeholders.
Student Learning Outcomes:
Upon completion of this course, the student will be able to:
Design and carry out an Action Research study.
Review literature related to relevant teaching and learning practices.
Collect and analyze multiple data sources.
Present findings in a research report and oral presentation.
Relate findings to national priorities for STEM education.