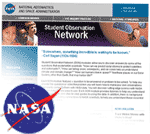 NASA's Tracking a Solar Storm: The Science of the Sun
Target Grade(s): 5-high school +
Overview:
Making Sun-Earth Connections

Learn about the Sun-Earth connection using online NASA resources. "Virtually" meet NASA guest solar scientists and educators. Abrupt changes on the Sun create flares and coronal mass ejections, blasting powerful "solar storms" into space. NASA satellites predict these storms protecting astronauts and power grids.

Use data to promote inquiry-based learning with technology and authentic data, as the core to these activities, as students gather, observe, and analyze scientific information. Topics include solar structure, magnetic fields, orbits, magnetism, light, convection, and radiation. Easy access to NASA data makes tracking a solar storm easy.
Use the unique context of solar storms and their effects on Earth to teacher standards-based content.
Standards-based topic areas include:
Earth & Space Science:
The Solar System, Remote Sensing, Atmosphere, Mapping, Radiation, Convection in the Sun
Physical Science:
Solar Energy, Composition and Properties of Matter, Atoms and Ions, Phase Changes, Magnetic Fields, Spectroscopy, Magnetism, Sound Waves
Science Process Skills:
Guided inquiry is performed as students track a solar storm from the classroom. Students follow sunspots and solar explosions. They later see the effects on Earth's magnetosphere and watch for aurora and possible disruption of satellite communications and more.
Course Objectives:
Participants will:
Make observations of the Sun using a variety of data types and sources.
Use and analyze scientific data to make predictions about solar storms, solar flares and auroras.
Incorporate NASA data into regular classroom instruction.
Adopt inquiry and technology-based teaching and learning strategies and successfully implement them in the classroom.
LIVE Sessions:
Session 1: Topic: What are Solar Storms and How are they Related to Magnetism?

Session 2: Topic: Radio Waves & the Physical Energy of the Sun

Session 3: Topic: Space Weather and the Effect on the Magnetosphere of Earth

Session 4: Topic: Auroras and Telling the Story
Additional Study:
After the interactive sessions, participants select from a variety of assignments in order to complete the necessary hours to earn credit for the course. Assignment choices include:
Listening to podcasts, videos and visualizations of NASA scientists and content.
Synthesizing diverse types of data to create a case study of a solar storm.
Researching the impacts of solar storms on humans.
Implementing "Tracking A Solar Storm" into the classroom and assessing impact on teaching and learning.
Participants Receive:
Current NASA products (CDs, Lithographs), lesson plans for middle and high school, and a resource page with key links for the classroom integrating the elements of the course with science content.
Website:
http://son.nasa.gov/tass/index.htm